Did your fitness regime grind to a halt during Christmas and New Year, despite your best intentions? Our focus over the holidays tends to be on spending time with friends and family, rather than on staying active. If you were one of the unlucky ones in a lockdown it probably also meant you were even less active over the Summer holidays than normal. Now that the kids are back at school and routines are slowly returning to normal we have 6 simple steps to get you back on the court, back into shape, and stay injury free.
What is conditioning and why does it fade?
Coaches and trainers use the term conditioning to cover a combination of physical attributes like strength, flexibility and cardio-vascular fitness . Instead of this being about one area of your body like your legs or just one attribute like strength, conditioning is used to talk about how all these things work together. Your body is very efficient and so when you aren't exercising your body begins to adjust to provide for just what you absolutely need to keep going. Muscles that aren't moving can become weaker, limbs less flexible and your capacity to push oxygen round your body begins to fall. When you don't exercise your body starts to lose it's condition. This process takes a little while but it often feels like it happens quite quickly, particularly if you jump straight back into your normal routine after an extended time off.
Conditioning and injury
When your flexibility drops so does your physical ability so don't expect your body to jump right back where you left off. A drop in cardiovascular fitness means you'll tire more quickly and prone to making mistakes or errors of judgement, particularly at the end of a session. At the bottom end of the scale this might mean a day or two of discomfort and muscle soreness, maybe cramp on the court but at the top end of the scale can result in more serious injury. Spending some extra effort on regaining conditioning after a break can help you avoid silly mistakes and stay injury free.
Because our bodies are very efficient, they can also recover quickly so with a little extra work you can get back on track and even improve your general wellbeing. If you follow a regular body conditioning regime over time you will build power, speed and coordination. The effects are not only beneficial for your physical health, these types of fitness routines generally result in reduced stress and improvements in mental health.
Return to the the court safely
Our team at Voyager tennis recommend the following steps to regain healthy reconditioning:
Step 1: Be kind to yourself.  
If you've had a month or two off over the Summer, the most important thing is to not to overdo it and listen to your body! If you place too much of a physical demand on your body you run the risk of injury, or being too sore to get up the next morning. Get back to exercise in a progressive manner.
Step 2: Prepare your body. 
Schedule time to work on flexibility. This will increase your circulation, blood flow whilst increasing mobility in the joints and a range of motion. Yoga is a great way to build up flexibility and several players such as Novak Djkovic perform this type of flexibility training regularly.
Step 3: Build up fitness.  
Next, it's time to increase the heart rate, initially with light cardio workouts such as a 20 minute brisk walk, or easy jog in the park if you had a few weeks off but were previously fit and active. After a week you should be ready to ramp up the activity.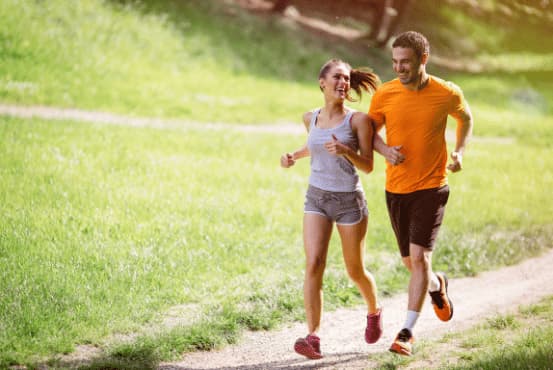 Step 4: Start Strengthening.    
When you become more static often the posterior chain becomes weakened. This set of muscles control how you stand, walk and sit at your desk. Try the following exercises to develop core strength and overall body strength:
Lateral Lunges
Squats
Sit ups
Burpees
Plank

Step 5: Take passive rest days.  
Make sure that your fitness schedule includes rest days to allow your body to increase blood flow and aid in muscle recovery. On your rest days you can keep working on the flexibility exercises.
Step 6: Make it fun! You've earned it!
After a couple of weeks you can start to ramp it up and introduce activity, frequency and duration. The best way to enjoy getting fit and improving your condition is to make it fun!
If you are a tennis player – you are ready to get back to the court. Start with one session per week then slowly build up to your normal routine.
Haven't played tennis before? You can take beginner lessons or try a cardio tennis program is a sociable way to bounce back into fitness to music and is open to people of all ages and abilities.
Bouncing back  
Following these six steps will help you safely return to fitness.  Even if you've had a long break, as long as you listen to your own body it's never too late. Maintaining overall body conditioning – healthy body weight, body strength and fitness levels – is vital to improving your physical and mental wellbeing.
Our tennis centres are located in multiple locations across Sydney and Singapore. Chat to our friendly Voyager team about joining one of our free class trials.